Dr Roller Derma Roller FAQs
Posted by dr-roller | Uncategorized | Posted on July 9th
DR ROLLER DERMA ROLLER FREQUENTLY ASKED QUESTIONS.
The Dr Roller Derma Roller is a breakthrough unisex tool that enables you to restore collagen and elastin without harming your skin… but it does even more:
.
Removes and reduces scars, including ones caused by acne and surgery
Removes and reduces stretch marks and cellulite
Restores collagen, helping to fight aging and wrinkles
Restores lost hair
Balances skin tone and texture
QUESTION: What single issue causes everything listed above?
ANSWER: Low collagen. A higher level of collagen production would make your skin more forgiving to previous injuries and have a more even tone and texture.
As we get older our bodies produce less and less collagen, making these problems more prevalent. That is where the Dr Roller Derma Roller comes in, reversing these issues by improving your body's natural ability to maintain good collagen levels.
WHAT DOES THE DR ROLLER DERMA ROLLER DO?
The Dr Roller Derma Roller is a professional-quality dermatological device that is safe and easy enough to be used by anyone in the privacy of their own home. It is like a small handheld paint roller, but one with 192 surgical steel micro-needles that are small enough to just slightly expand the openings of the pores without actually damaging them. The pores will go back to their normal state after about an hour, but while temporarily opened can absorb skin creams and topical treatments better than pores not opened by the Derma Roller.
This image of the Dr Roller Derma Roller is magnified; the needles' are really only one millimetre long (and do not hurt you).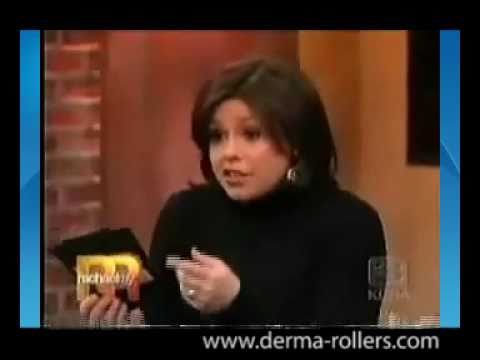 The FDA approved Dr Roller Derma Roller is a do-it-yourself, in-home alternative of a popular practice known as micro-needling, but also compares with other similar practices such as laser treatment, chemical peels and dermabrasion. All of these other practices cause more stress to the skin than necessary, and cost patients significantly more time and money.
HOW DOES THE DR ROLLER DERMA ROLLER WORK?
By rolling the Dr Roller Derma Roller over your skin, its micro-needles are able to make tiny openings in it, mostly just more fully opening your pores for about an hour. Although skin rolling causes no actual injury, rolling the needles on your skin tricks your body into believing there is much more significant damage, so it tries to compensate by producing a higher-than-usual amount of collagen and elastin in the "offended" area. By regularly initiating this false perception of injury, your body will continue trying to heal and will produce the increased collagen and elastin all the time.
Usually your body would heal on its own, but unfortunately cosmetic issues like scars or stretch marks are of secondary importance. So we need to trigger a more thorough healing process which continues to a cosmetic level.
If your skin were to heal over again, the scar or discoloration would be even less apparent than after the first healing. The Dr Roller Derma Roller can trick your body into re-healing areas with these conditions over and over until they are reduced as much as they can be, or entirely disappear: by repetitively initiating the 'healing process', your body will heal these areas again and again. Improvement comes in waves!
Results will  start to show within the first week of treatment, but use over time is the best way to get a permanent result.
WHAT SETS THE DR ROLLER DERMA ROLLER APART FROM OTHER SKIN ROLLERS?
Not all skin rollers are created equal. For one thing, the Dr Roller Derma Roller is one of the only skin rollers that is approved by the FDA. Other rollers are also not built to last, and may break or dull quickly. Many are not even gamma sterilized! Our skin rollers are made from only the best materials, and the micro-needles are of the highest grade of surgical steel. We hold our rollers to a standard of ISO/CE/FDA, and a gamma sterilization standard of ISO 11137. A Dr Roller Derma Roller will withstand at least three to six months of heavy usage.
WHAT CAN THE DR ROLLER DERMA ROLLER REMOVE?
The cyclical healing process initiated by regular use of the Dr Roller Derma Roller works to reintroduce youthful, injury-forgiving elasticity to your skin, reducing or completely removing stretch marks, scars, wrinkles, and cellulite…
Stretch marks are the result of abrupt stretches to the skin. While the outermost layer of skin is not torn, small rips and overall thinning occur at the site of the stretch in the dermis below. The injured blood vessels are what you see through the outer layer of skin, and over time these change in color from reddish to purplish to a silvery white. They are most often brought on by pregnancy, (during which 75%-90% of women develop stretch marks); growth spurts in adolescence, and the rapid loss or gain of weight, either fat or muscle.
The Derma Roller's healing abilities can also be put to work on virtually any type of scar, including acne or chicken pox scars, burn and surgery scars, pitting of the skin, and large pores, among others.  Visit our disclaimer for more details on what can and can't be treated.
Collagen is the material that keeps skin from deteriorating into wrinkles. By using the Dr Roller to restore collagen, you can undo fine to deep wrinkles anywhere on your face, including crows' feet, laugh lines, and scowl lines, to name a few. The Derma Roller also works on wrinkles on your chest, neck, hands, and pretty much anywhere.
Similarly, the Derma Roller's continued collagen restoration can smooth out cellulite! To reduce or even completely remove cellulite, use the Derma Roller every week on any cellulite-ridden area; such as your legs, thighs, hips, buttocks (bottom), stomach, or arms.
Visit our Derma Rollers Before and After gallery to see for yourself what the Dr Roller Derma Roller can do for you!
WHAT CAN THE DR ROLLER DERMA ROLLER RESTORE? CAN IT REVERSE HAIR LOSS?
The first things that the Derma roller restores are collagen and elastin. But this is just the start of the skin's return to it's healthy state.  The Dr Roller also reduces hair loss and based upon clinical trials, can trigger the regrowth of lost hair. In balding men, the Dr Roller was found to reverse an average of 80% of hair loss/balding (alopecia).  The Dr Roller device can be used to treat both male and female hair loss.
HOW DO I USE THE DR ROLLER DERMA ROLLER?
The practice of skin rolling with the Dr Roller is easy and can be done in the comfort of your own home. For directions, see our Instructions Page.
HOW LONG UNTIL I SEE RESULTS?
The amount of time before you see results varies, based on a combination of the type and the severity of the issue being treated. Total improvement of an area may take up to several months, but you will see at least the start of results within the first week!
Your body completely renews its skin every forty days. The Dr Roller works with your skin's natural cycle and is a great tool for giving your complexion a clean slate.
IS DERMA ROLLING PAINFUL? AND DOES IT INJURE MY SKIN?
There are actually two approaches to use the Derma Roller, but neither should cause bleeding.
The first option is performed once weekly because it is the more intensive one. In this method you must apply a cream to numb the skin before rolling it more thoroughly.
The second approach, performed up to five times a week, is gentler and does not require the area to be numbed. In this method, you barely add any pressure as you roll over your skin. Your face is more sensitive than most of the rest of your body, but skin rolling should not be painful, it can actually be more of a metallic ticklish feeling.
As said, neither should actually injure or damage your skin. Your skin may be red for an hour or two after rollering it, and rolling may cause a mild sunburn-like effect. In fact, treating the area with sunscreen upon rolling is advised if you will be going outdoors within an hour or 2 of treatment. For further information, see our Derma Roller Instructions Page.
DR ROLLER DERMA ROLLER BEFORE AND AFTER IMAGES…
See the Derma Roller in action! Take a look at our Derma Rollers Before and After gallery for a glimpse of the effects of the Dr Roller on real people.
Also, be sure to check out the Derma Roller Diary Series.
DR ROLLER DERMA ROLLER REVIEWS.
Visit the Derma Roller Reviews page to read testimonials about the Dr Roller Derma Roller… or if you have used the Dr Roller, leave a comment of your own!
WHAT PRESS HAVE DR ROLLERS RECEIVED?
The Dr Roller Derma Roller has been a featured product on national television programs, and was recently featured in the LA Times.
HOW MUCH DOES THE DR ROLLER DERMA ROLLER COST?
Pricing of the Dr Roller starts at just £59.95 RRP £79.99, with taxes and shipping included. You can order online from anywhere in the world, so to convert the above price into your national currency, go to www.xe.com (opens new browser window).
HOW DO I ORDER MY DR ROLLER DERMA ROLLER?
You can order your Derma Roller online; see our Order Page. We will ship your order the same day or the next working day.
WHAT IS THE GUARANTEE ON MY DR ROLLER DERMA ROLLER?
The Dr Roller Derma Roller is an FDA-approved medical grade 1 product (classification: non dangerous) provided by Dr-Roller.com.  As a business, we have supplied medical and diagnostic products to the UK National Health Service (NHS) since 2001.  We are a name you can trust.
We stand behind our product and have complete confidence that you will be satisfied. We guarantee that if you properly use your Derma Roller at least once a week and do not see significant improvement of wrinkles, stretch marks, scars, cellulite, or hair loss within six months, we will give you your money back.
Also, if you are dissatisfied with the Derma Roller for any reason, you may send it back in new condition within the first seven days. You may keep all free gifts as our way of thanking you for trying the Dr Roller Derma Roller.
While you will almost definitely see noticeable results very soon after beginning the Dr Roller Derma Roller treatment, the ultimate improvement will be gradual. We recommend that you take a photograph of the area you wish to improve before your first use so you can compare your skin over time and see the improvement for yourself.
Skin needling, or micro-needling, is a safe practice and really works; you can do it by yourself at home.  Get your own Dr Roller on order today!