Scientia Skin Laser
Posted by dr-roller | Uncategorized | Posted on May 4th
"Incredible Multi-Wavelength Skin Laser Technology Can Visibly Reduce Ageing, Reduce Wrinkles and Promote Collagen Production in Your Skin, or Your Money Back"
The Scientia Skin Laser  is a revolution in home laser therapy, which allows for increased collagen levels in your skin without any discomfort, adverse side-effects or recovery time.
The Scientia Skin Laser is a hand-held device which contains lasers of four different wavelengths. These multi-wavelength lasers can naturally increase collagen production in the skin, leading to the reduction of fine wrinkles and enhanced skin elasticity and resilience.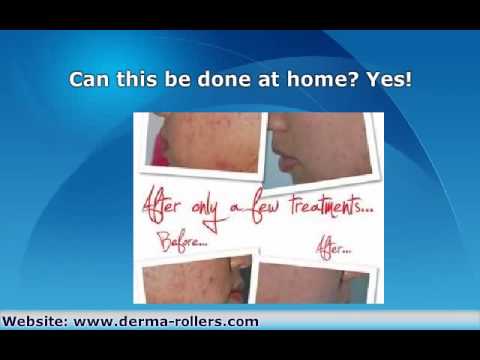 What causes premature ageing of the skin, stretch marks, scars and wrinkles?
A lack of collagen! Collagen is an essential component in skin repair. If the skin could naturally generate more collagen when healing, then the healing process would give better, more aesthetically pleasing results.
The Scientia Derma Roller is a device designed to stimulate the production of collagen and elastin in your skin, but some people don't like the idea of using microneedles on their skin. Dermarollers can be used regularly in relative comfort, but for those who choose not to, the hand-held Scientia Skin Laser can be used to gain similar results with no discomfort or mechanical contact with the skin and with no downtime.
Over 2500 scientific studies on low-level laser therapy or laser photon therapy have been published internationally, with positive results. We have utilised this extensive medical data to develop a multi-wavelength laser to reach different depths within the skin with minimal absorption (waste) by water, haemoglobin or melanin. This means that the different layers in the skin absorb as many photons as possible to trigger maximum results.
The device itself is lightweight and easy to use. Its lasers emits wavelengths at 670nm, 780nm, 830nm and 910nm to target the different skin layers perfectly.
Which conditions can be treated using the Scientia Skin Laser?
Many conditions can be reduced or improved with an increase in the levels of collagen and elastin in the skin. The  Scientia Skin Laser is perfectly suited to treat these conditions, which include:
Active acne and acne scars.
Stretch Marks.
Scars and scarring.
Eczema.
Fine lines, creases in the skin, crows feet (laughter lines).
Age spots.
Pitted skin and/or sagging skin.
How to use the Skin Laser.
The Scientia Skin Laser is turned on and off at the push of a button, and is used cordlessly. When not in use, the device can be charged using the A/C power adapter we provide. The laser even has a proximity detector so that it does not turn on unless close to your skin. This feature prevents accidentally shining the device into your eyes.
To use the device, simply sweep it over the area of skin you wish to improve. This can be a small area of skin, or a large one.
The Skin Laser's lights stimulate mitochondrial activity within the skin, promoting ATP synthesis. The mitochondria are the active centres of the skin's cells, and their increased activity assists in many cell functions. Like a solar panel exposed to bright sunlight, the increased cellular activity within the mitochondria caused by the laser enables your skin to produce more collagen and elastin. As a result, your skin is left firmer and stronger. Collagen strengthens the blood vessels, and is used in tissue rejuvenation. Lack of collagen is evident in aged and wrinkled skin.
What Makes the Scientia Skin Laser Different from Other Home Laser Devices?
The Scientia Skin Laser is the world's first patented application of portable multi-wavelength skin lasers. This multi-wavelength technology is used to treat skin at different depths, allowing for more complete exposure. Additionally, the Skin Laser uses Vertical Cavity Surface Emitting Lasers (VCSEL), not the cheaper and less-effective edge emitting lasers. VCSEL lasers can be aligned closer to each other, resulting in a more energy-efficient and lightweight design. This makes the device more compact, effective and convenient.
Are There Other Terms for This Therapy?
Low-level laser therapy has previously been referred to as soft laser, cold laser therapy, low-power laser therapy, laser acupuncture, therapeutic laser or bio-stimulation laser. All of these terms relate to the same method. This therapy should not be confused with laser hair removal or laser treatments which create physical trauma in order to promote collagen production in the skin.
Is the Scientia Skin Laser Safe?
Yes, the Skin Laser is perfectly safe to use. The product has FDA approval, CE Mark as a medical device, ISO 9001, ISO 14001 and ISO 13485. You can be certain that the Scientia Skin Laser has been built with your safety and skin rejuvenation success in mind.
Is there any reason why I should not use the Skin Laser?
In the interests of safety, the Skin Laser should not be used by people with any electronic equipment within their body such as a pacemaker. Equally, any people using electronic medical equipment attached to the body such as an electrocardiogram.
We would also discourage use of the Scientia Skin Laser:
You are suffering from a high fever.
You are suffering from sensitivity due to allergies.
You have any form of tumour.
You have undergone long-term steroid use.
You have liver disorders with symptoms of dilation of capillary vessels.
You are allergic to metal.
You suffer from facial numbness.
You suffer from haemophilia.
You are pregnant.
You are aged 12 or younger.
Are there any parts of my body which I should not use the Skin Laser Therapy system on?
Do not use the Skin Laser Treatment on eyes or eyelids, open wounds or lesions, sunburn, or your mouth.
What is Included with the Scientia Skin Laser?
The Scientia Skin Laser comes boxed with instructions for use and either a UK or USA power supply depending on the delivery address specified in the order. If you would prefer a different power supply, please email us and we will do our utmost to accommodate you. The power supply is used to charge the device, which is used cordlessly. We provide free worldwide shipping which includes tracking and insurance.
The Scientia Skin Laser is covered by a one-year warranty and a six-month results-based guarantee. If you use the device at least three times per week for six months, you WILL have measurable improvement, or your money back. With these guarantees, you may purchase with absolute confidence!
Bid farewell to expensive topical treatments and unnecessary drugs! Low-level laser therapy has been delivering noticeable results for over 20 years. However, it is only recently that the product has been found outside the realm of expensive clinics and is being used as a home therapy.
If you're looking for an easy, affordable and painless method of rejuvenating your skin, in the comfort of your own home, then the Scientia Skin Laser may be precisely what you're looking for!
Get Your Scientia Skin Laser Today!
1 x Scientia Skin Laser @ £295 (GBP) RRP 379
We provide free worldwide tracked and insured shipping with this laser skin care product and a choice of UK or USA power supply.